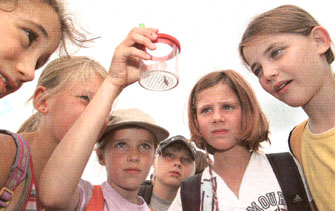 Completion of Natura 2000 site "Aubing Marsh"
As a member of the implementation team commissioned by the city council, we were responsible for the publicity work for the Aubing Marsh, in the west of Munich, the state capital. It is made up of the Munich zone (12 km²) of the Dachau Marsh, formerly around 123 km² in area, a low marsh for which Ohnes & Schwahn had conceived an upkeep and development plan and a habitat system based on it.
The basis of the publicity work is a system of collaboration we have developed with the local primary schools which are maintaining the renaturation project in the area and are entrusted with communicating our concern to the families in the surrounding villages. By means of suitable main species from the Aubing Marsh we are trying to highlight important relationships within the sensitive ecosystem. In the classroom, in collaboration with primary school head teachers, we provide an initial insight into the mainly secret life of a selected species, in order to obtain an idea of its original habitat next day, on site with the children. To the great delight of the children, we are also inviting the local press on this second day.
Project PR:
Completion of Natura 2000 site / BavarianNet Nature -"Aubing Marsh"
Customers:
Munich, state capital, Department of City Planning and Building Regulation / Lower Nature Protection Authority
Press archive

Press reports for reading